About RPG Research | Our Staff | Mission | Vision | Impact | Volunteer | Donate | Events | Schedule | Museum
Non-profit Listings for RPG Research: Washington State Government Lookup | Guidestar.org Rating |
100% volunteer-run, RPG Research's founder, Hawke Robinson, regularly runs the RPG Tour whose purpose is to raise awareness about accessibility & inclusiveness issues, adaptive equipment & technologies, the power of therapeutic recreation, cooperative music, and role-playing games
to help improve functioning and quality of life for various populations.

RPG Mobile Fleet: Wheelchair Accessible RPG Bus and 2 RPG Trailers
Check out RPG Research's regular DROP IN AND RPG programs accessible, inclusive, and freely open to the public.
Watch for updates about the new RPG Community Center and experiential learning RPG Museum.
Follow tour updates on Twitter: www.twitter.com/rpgtour and Instagram: www.instagram.com/rpgresearch.
Learn more about our opensource Brain-Computer Interface Software development of the cooperative social BCI RPG.
To help improve socialization for Locked-in Syndrome (LIS) and Complete Locked-in State (CLIS) populations
See details, photos, maps, of our history of RPG Tours on our old website at www2.rpgtour.com.

RPG Tour 2021 WA, ID, MT, UT, NV, AZ, CA.

RPG Tour 2020 Washington to Maine to Texas and back. RPG Museum major donations received.

RPG Tour 2019 Washington to Nevada, American Therapeutic Recreation Association Conference.

RPG Tour 2018 Philadelphia, Pax Unplugged.

RPG Tour 2018 Washington to Indianapolis, GenCon.

RPG Tour 2017 Great Western USA RPG Tour: 26 days, 8 states.

RPG Tour 2017 SpoCon Tour

RPG Tour 2017 Northwest USA

RPG Tour 2016 Washington State
RPG Research at Spark Central Spokane Community Center
2007 Fantastic Fun For All, Hillyard, WA
RPG Tour, Rathdrum Idaho, Muscular Dystrophy Association Summary Camp programs, music, larp, and TRPG.
Wheelchair acessible RPG Trailer prototype at Muscular Dystrophy Association MDA summer camp, RPG Research volunteers providing adaptive role-playing games (tabletop and live-action (LARP)), shield-making/decorating, and adaptive drumming.

Eastern Washington University
2019 RPG Tour, American Therapeutic Recreation Association Annual National Conference, Reno, NV.
2018 RPG Tour, Philadelphia, Pax Unplugged Therapists Panel
2016 RPG Tour at Seattle Children's Hospital Washington State Therapeutic Recreation Association
Socializing Distantly Therapist Roundtable Part 1
Socializing Distantly Therapist Roundtable Part 2
2015 WorldCon 73 Sasquan & Science Saturday Spokane, WA, Research studies on experience of Gender Biases in Community and Industry
RPG Tour 2018 - GenCon Prisons Documentary, Indianapolis, Indiana.
RPG Trailer prototype and RPG Bus setting up at SpoCon Game Day.
RPG Trailer Prototype & RPG Bus deployment example for wheelchair access.

RPG Trailer interior with Montessori school kids being introduced to role-playing games using No Thank You Evil (June 2018)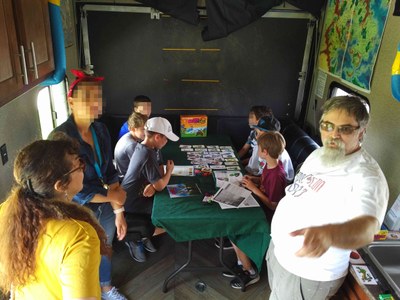 Example Route Maps Summary
This is just a small sample of some of the tour routes from the past.
2020
2018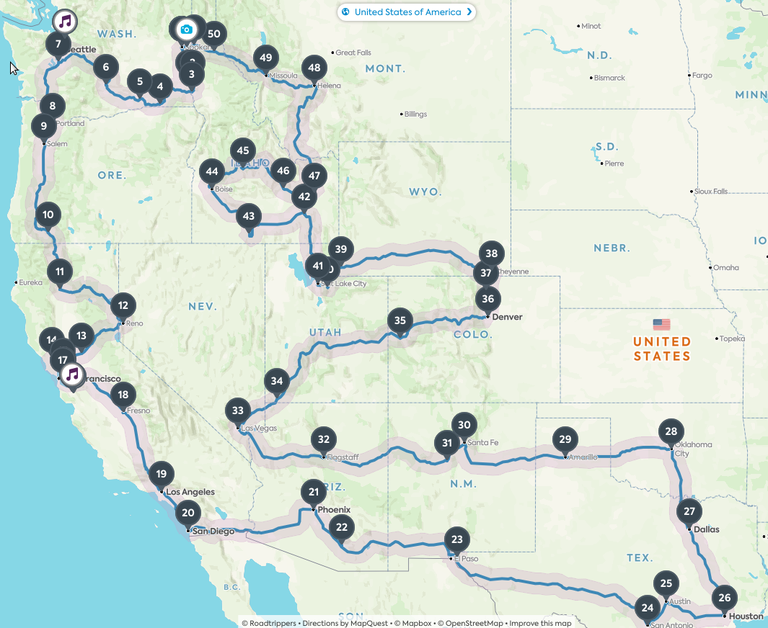 2017